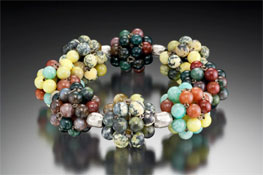 Judith Greif Designs
Artist Statement
Inspiration for my contemporary fashion jewelry designs comes from a synthesis of my training as a designer and from my love of nature. My training as an architect allows me to create a multitude of forms and shapes. When assembled, these beaded beads become the building blocks that I use to make my jewelry designs. Nature, with its array of color, texture and variety, inspires the core response of my work.
My work as a painter and printmaker strengthens my ability to view my pieces as a composition; their shape, their balance and the space they occupy. Recognizing the importance of this information I transfer it to my jewelry making and ultimately to the wearer.
My pieces are all custom handmade. No piece is ever exactly like another. Why is that? It is the challenge of making a new combination of beads, or colors or textures that excites me and advances my work. Sometimes this will take much trial and error and other times a new design will grow and develop naturally from another piece.
Professional Affiliations: Museum Store Association, Art Jewelry Forum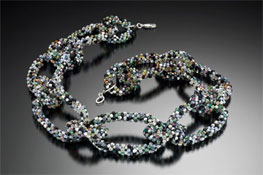 Materials & Process
I always begin my work with a pile of loose beads on my studio table, working with varied colors to create the composition that will best enhance a particular style. Sometimes it might be only one color, or variations of that color, and sometimes the palette might be a rainbow of color. Other times, while traveling in Europe, Asia and Central America, I might discover special beads that would be wonderful in a necklace or a bracelet. In these circumstances the piece is already finished in my head before I begin to create it with my needle and thread.
Making beaded bead designs: I build new forms using a selection of loose single beads and the most basic tools; #10–12 needles and waxed thread, pliers and silver wire. Some of my beads are created from as many as 144 small (3–4 mm) beads to a minimum of only 12 beads. Slipped on to slim sterling silver wires or attached to silver chains these finished shapes become elegant natural forms that bring joy to both the wearer and the viewer.
I select my beads for their quality, color, vibrancy, size and sometimes their unusual shape. Primarily I use Czech glass beads; however I like to use beads that I collect during my travels. I often use unusual bead materials such as metals, precious gem stones and natural materials. These add variety and interest to a completed piece.