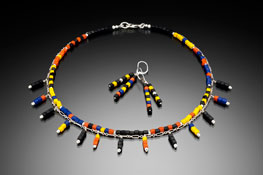 Purchase / Contact
The jewelry pieces shown in my collection are for sale. Each piece is one of a kind and is available for purchase by contacting me directly at judith@judithgreifdesigns.com.
If an actual piece shown in a photo is no longer available, new jewelry with similar style, colors and materials can be made to order upon request.
Custom Made Jewelry
In an effort to accommodate my clients I am happy to work with you to create personal designs that include beaded bead preferences, special colors and sizes, bracelets, and/or earrings to match. Custom made pieces are purchased with a 50% non-refundable deposit.
Prices
Prices are listed for each piece in the Collection section. Prices do not include sales tax or shipping costs.
How to Contact Judith
I would like to hear from you. Feel free to contact me with your questions and comments. Sometimes a client asks me to create a new piece from their existing beads or necklaces. I am willing and interested in discussing the possibilities of creating something new and exciting for you.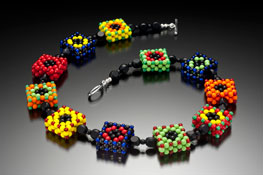 See Judith's designs at:
F. Dorian Gallery
370 Hayes Street
San Francisco, California
415.861.3191
fdorian@att.net
Oakland Museum of California Gift Store
1000 Oak Street
Oakland, California
510.318.8510